Mama M over at
My Little Life
is once again hosting 5 Question Friday...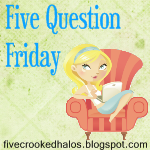 1. Is there something you've always wanted to try but just can't muster up the courage to actually do yet?
I don't know if it's courage as much as money and opportunity but I have always wanted to go sky diving. I have been bungee jumping and para sailing and I would love to try sky diving. I am sure my husband would go with me if we ever had the opportunity!
2. If you had $100 handed to you in cash without your significant other knowing about it, what would you spend it on?
Clothes...I love to go shopping!
3. What was your favorite piece of playground equipment as a child?
Oh the swings...swings are still my favorite. I love the feeling of flying through the air...it's so freeing.
4. Do you prefer a sweet or hearty breakfast?
or...a little of both! Like a big yummy cinnamon roll with some scrambled eggs and bacon. Oh, I am drooling already - Yum!
5. Are you a Neat Freak or a Messy Bessy?
Very much a Neat Freak...I can't even pretend otherwise :) I like to have things orderly and tucked away where they belong. I try very hard not to get over-the-top about it as I do have two boys who don't have the same sense of tidy as I do!
Follow the link above if you want to play along! Have a great weekend!